Jobs = Population Growth = Housing Growth!
Interest Rates Hit All Time Low
Freddie Mac reports that the average 30-year mortgage rate fell to 2.98% last week. This is the first-time interest rates have fallen below 3% in the 50 years that Freddie Mac has been recording the data. The average 15-year mortgage came in at 2.48%
This continued drop in interest rates has helped keep homes affordable for buyers, even in an environment of rising prices. Phoenix housing prices are accelerating at the highest rate in the nation (due to a severe lack of supply), yet the average monthly payments for these buyers have remained flat.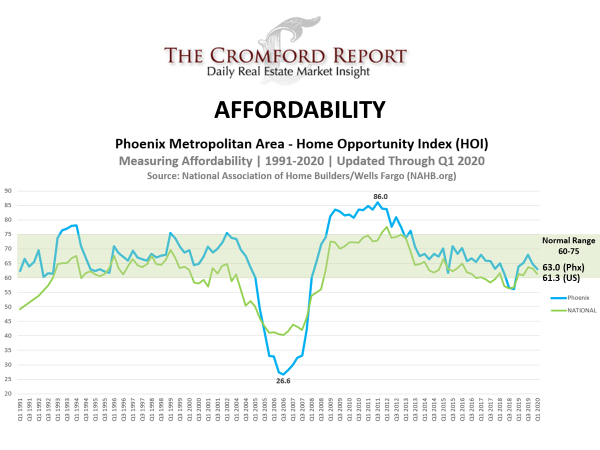 I've been asked how Phoenix can continue to have a hot housing market during an era of a pandemic, high unemployment and economic uncertainty. The answer is threefold:
People still need a place to live, regardless of the economic times
The Phoenix Metro Area has had a lot of growth in recent years and not enough housing built to support that growth
Low interest rates have kept buying a home relatively affordable. Increasing rent rates has made buying a home in many areas of the Valley cheaper than renting.
Here is the latest economic data for the Valley Housing Market:
Interest Rates: Freddie Mac reports the average interest rates this week at 2.98%
Demand: Demand for homes has continued to rise. Homes currently under contract are up 19.7% over this time last year. Some of this growth is pend up demand from the Covid shut down in April and May. However, demand has been moderately strong since the Valley re-opened and is expected to strengthen as the economy continues to recover.
Supply: Supply on the other hand is at an extreme. The number of homes for sale in the valley is at the lowest point since 2005. There are currently 42% fewer homes for sale than this time last year. We would need to triple our current inventory just to get to what would be considered a "normal" amount of supply for Phoenix.
Cromford Market Index: This is a supply/demand index for the Phoenix Housing Market. A CMI number under 90 is considered a buyer's market (over supply) while a number over 110 considered a seller's market (under supply). 100 is balance.
The current CMI is an astonishing 292.1, which puts Phoenix in an extreme seller's market - Home prices are on the rise!
Home Pricing: The median home price in the Phoenix Metro Area for June was $340,000. This is up from $327,000 in May (3.97% increase) and up from $307,000 in June 2019 (10.6% increase). This is an expected result of the CMI number discussed above showing a strong seller's market for the past couple of years. Until that supply/demand number gets closer to balance (100), we expect home prices to continue to rise.
As always, we are here to handle all your real estate needs. If you have questions regarding anything in real estate, or know someone looking to buy or sell a home, please give us a call.